Written By: Geoff Millar, Owner – Playa Resorts Jamaica, Ultimate All Inclusive Travel 
This month we are going to begin our exploration of holiday destination is a chain of resorts located in Mexico, Caribbean and Europe. It is made up of 7 brands and over 50 resorts worldwide. The brands are Zoetry, Secrets, Dreams, NOW, Breathless, Reflect, and Sunscape. They are adding 10 new holiday destinations this year and next. They have a holiday destination that fits just about any market from the luxury 4 star and 5 star, midlevel 3 star, and entry level. These  are truly all inclusive. Remember that, as a number of resort chains are, these holiday destinations does not own any resorts, they are all privately owned and managed by AM Resorts. These hotel recruits the owners, helps with the design and building of the same, sets a minimum standard that must be met by the owners of the hotel, and handles the management of the resorts. Some of the services offered by the hotel are strictly managed by the owners such as the timeshare offerings. By managing the resort, AM resorts is able to maintain a certain level of quality at each of the s.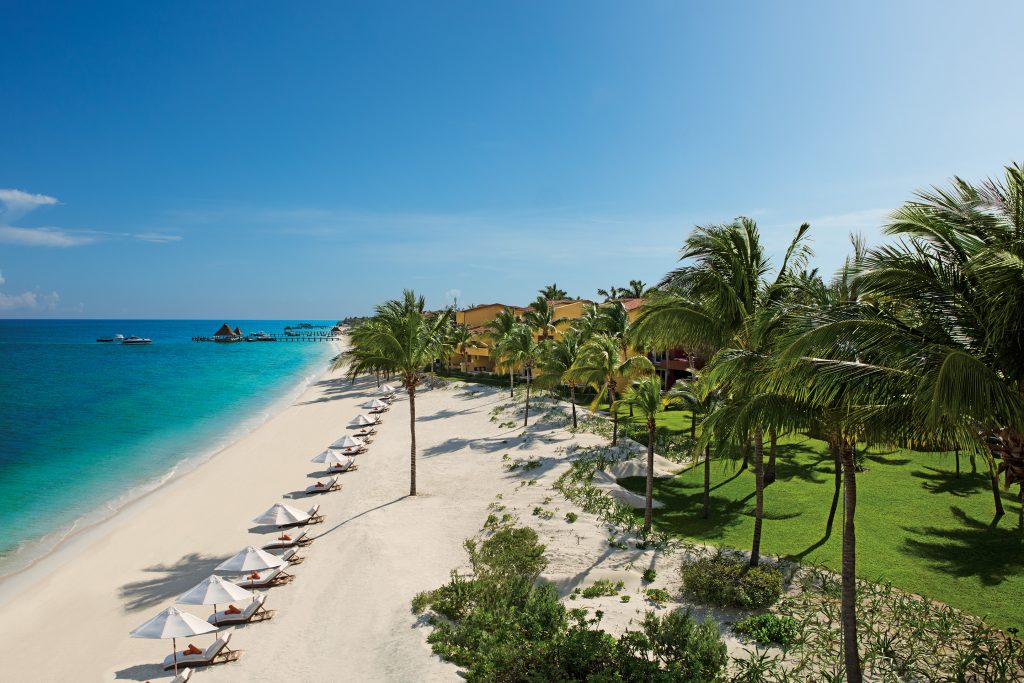 The first brand we are going to look at is AM resorts highest level of resort the 5 star Zoetry Resorts, they are located in Mexico, Jamaica, and Dominican Republic. Because of the smaller higher boutique size, it can very easily book the whole resort for their function. These resorts are situated on some of the best beaches in Mexico and the Caribbean. These holiday destinations offer upscale accommodations, dining, services, and facilities. 
We will first look at the Zoetry resorts located in Mexico. There are two of them, Zoetry Paraiso de la Bonita Riviera Maya and the Zoetry Villa Rolandi Isla Mujeres Cancun.  
We will look at the Zoetry Paraiso de la Bonita Riviera Maya first. This was the first Zoetry resort. It sits on a great stretch of beach and in a quiet area. This resort is a small boutique style resort with only 100 suites. This AAA 5 Diamond resort is also a Wellness and Spa resort focusing on the guests wellbeing with Thalasso , Mayan, and Asian treatments as well as dietary programs. This resort does allow children but, to discourage children, all children must pay the full adult price. It only allows children because the owner of the resort likes to bring his children when they stay there.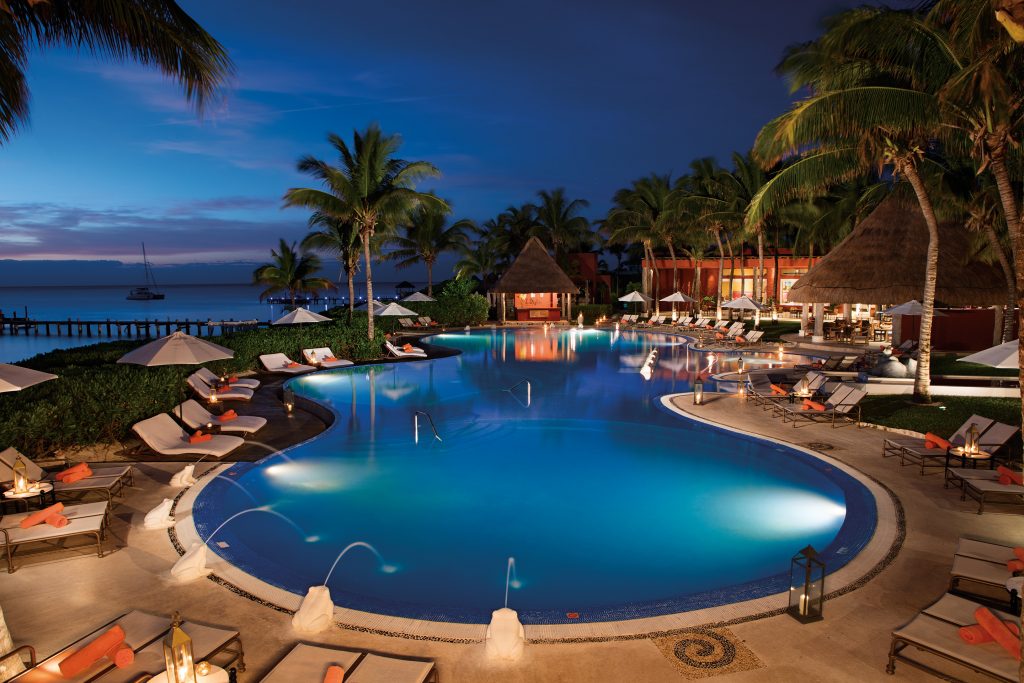 Accommodations are unique in that no two suites are designed alike There are three sections to the resort, the main resort section, the butler section, and the Impression section. This is their Concierge level accommodations and include a butler, a private chef, exclusive restaurant and bars, and upgraded amenities. The accommodations in this exclusive area include a 2 bedroom presidential suite with private pool, an Ocean front one bedroom Suite with a plunge pool, and an Oceanfront Jr. Suite with plunge pool.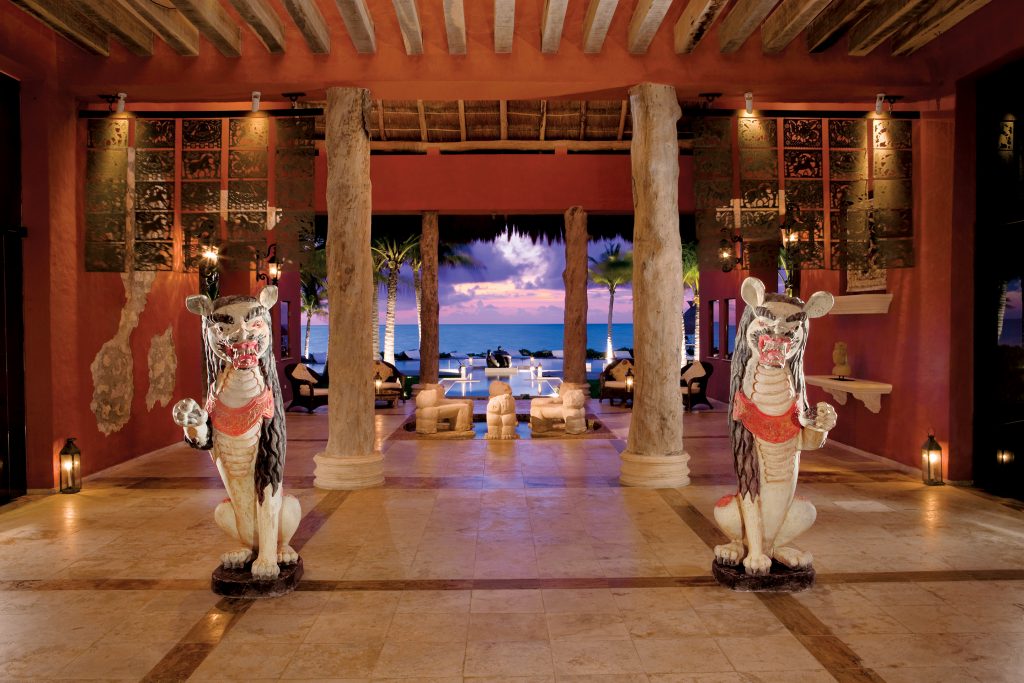 There is also the resort butler section which includes the 3,000 sq ft 2 bedroom Oceanfront Governor's Suite, the 1200 sq ft Oceanfront one bedroom Suite with private plunge pool, and finally the 1800 sq ft two bedroom Master Suite with private plunge pool. 
Last but not least is the Standard section which includes the 1800 sq ft. two bedroom Oceanfront Master Suite with terrace, the 1200 sq ft one bedroom Oceanfront Lover Suite, the 1200 sq ft Oceanfront one bedroom Lover Suite with private plunge pool, the 1200 sq ft Oceanfront one bedroom suite with private plunge pool, the 1100 sq ft Oceanfront Romance Suite, and finally the 1100 sq ft one bedroom Suite with Terrace. 
All Suites are unique and each one is different in décor and layout.  All come with luxury amenities as well as WIFI and some suites even allow small dogs. All Suites allow free world wide long distance calling, 3 times a day maid service, 24 hr room service, and a bottle of sparkling wine and a fruit basket daily.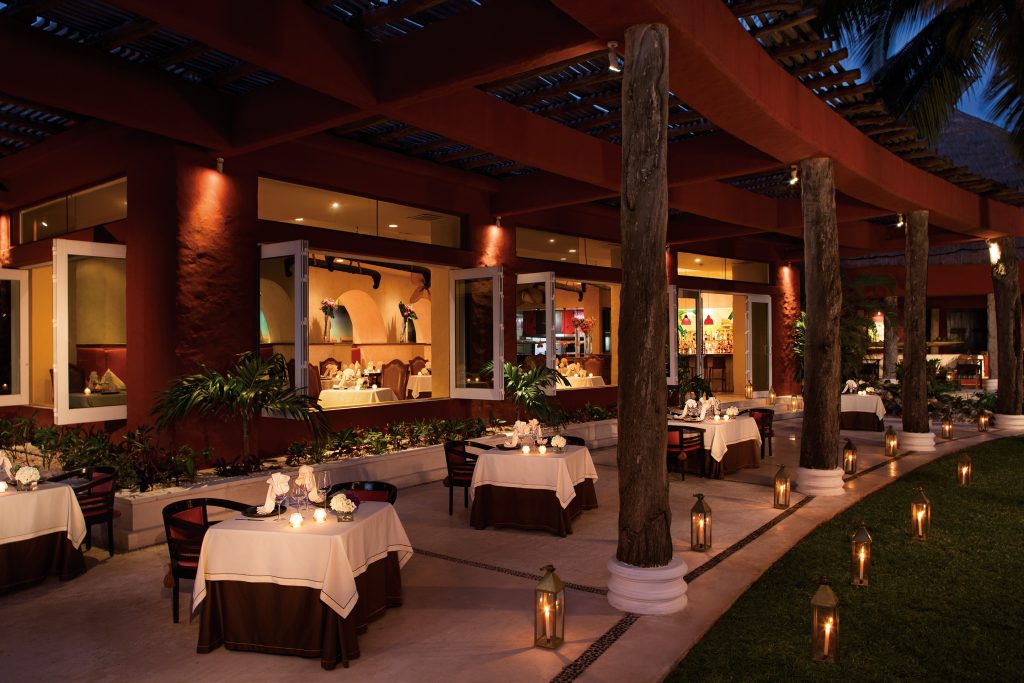 Dining offers a variety of choices, all A La Carte restaurants. There are 4 of them starting with the Steak and Seafood Grill, then the AAA 4 Dimond Canoa Fusion restaurant, the Mexican Restaurant which also serves sushi at lunchtime. There are 2 restaurants that are reserved for those staying in the (concierge) section. They are The Asian fusion Restaurant and the Red Kitchen serving Mexican breakfast choices. There is also 24 hr room service. As far as drinks the resort only serves top shelf alcohol. There is the Hippo pool bar, the library bar, and for the guests of the Impression section there is the Impressions Club, bar and lounge with billiards and relaxation. 
As far as activities this resort is all about relaxation and getting away from the hustle and bustle of the world.  You can take advantage of the Wellness and Spa services, daily tea, enjoy the beach with your complimentary beach bag, relax in the pool, complimentary greens fees at one of the nearby golf courses. An art, drink and food pairing tour of the resort, a catamaran tour, watersports such as sailing, kayaks, paddleboards, snorkeling, and windsurfing. Also, on land there is tennis, wine tasting, tequila tasting, cooking classes, cigar making, yoga classes, nightly live music and entertainment, and meditation. As the resort says, do as much as you want or as little as you want. Remember children are allowed but not encouraged. They will pay full adult prices and there are no children activities at the resort. As said, the only reason they allow children is the owner likes to bring his children to the resort. 
This resort would be great for that busy stressed client that wants to get away from it all but in an upscale luxurious setting. Not for everyone and is at a high price point. It is great for weddings where they can reserve the whole resort. This does happen quite a bit.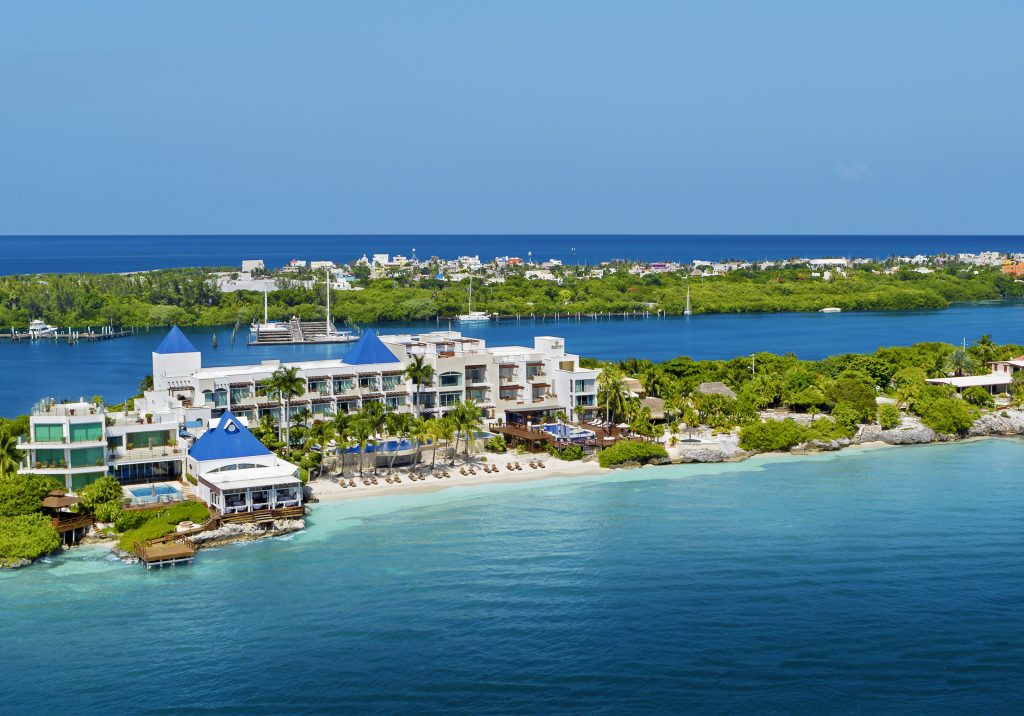 Next, we will look at the other Zoetry Resort in Mexico. This resort is located on the Island of Isla Mujeres just off the Cancun resort area. It is the Zoetry Villa Rolandi Isla Mujeres. Isla Mujeres is a 20 minute boat ride from the main port in Cancun and transportation is provided by the resort's private yacht. Isla Mujeres is much smaller and quieter than the Island of Cozumel. It has a few resorts scattered among some beautiful homes. The resort is a small boutique with only 35 rooms. Again, this would be a great resort for weddings where clients could book the whole.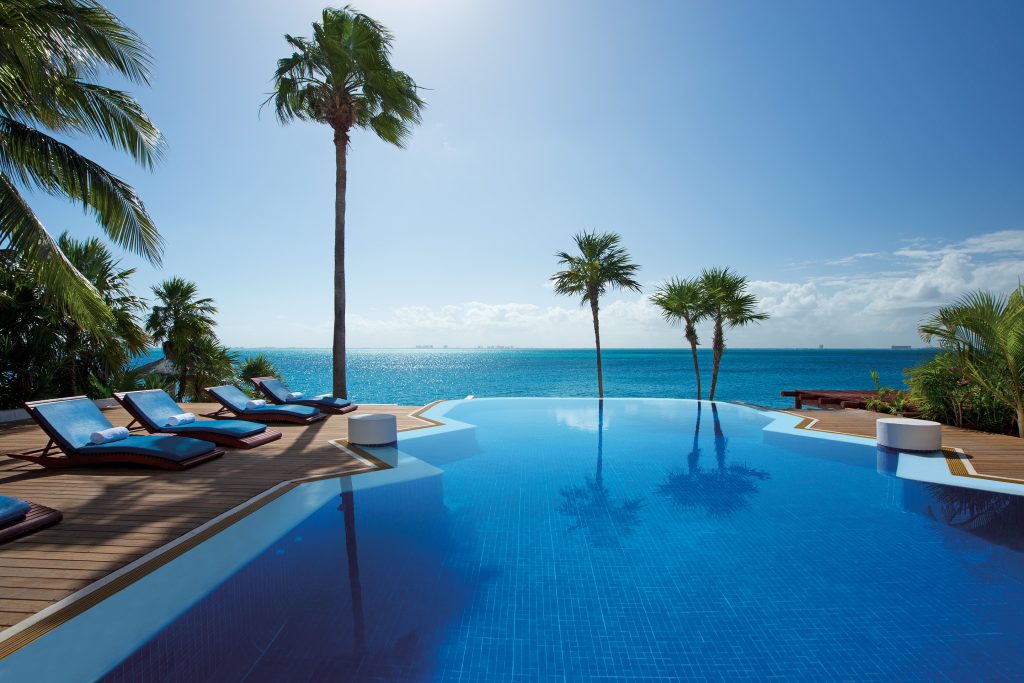 Accommodations at the resort consist of the 3 level 2,000 sq ft Oceanfront Presidential Suite, the 800 sq ft Superior Oceanfront Jr. Suite, the 500 sq ft Oceanfront Jr Suite with veranda, and finally the 500 sq ft Oceanfront Jr Suite. All suites contain WIFI, luxurious amenities, 3 time a day maid service, fully stocked minibar, Free international calling, 24 hr room service, and small dogs allowed in some room categories. 
Dining includes two A LA Carte options. A Swiss/Northern Italian restaurant and a French/Mexican restaurant. As far as drinks there are two bars to choose from, the Lobby bar and the Casa Rolandi bar. Drinks are also served in the restaurants. All drinks are made with top shelf alcohol. There is also 24 hr room service.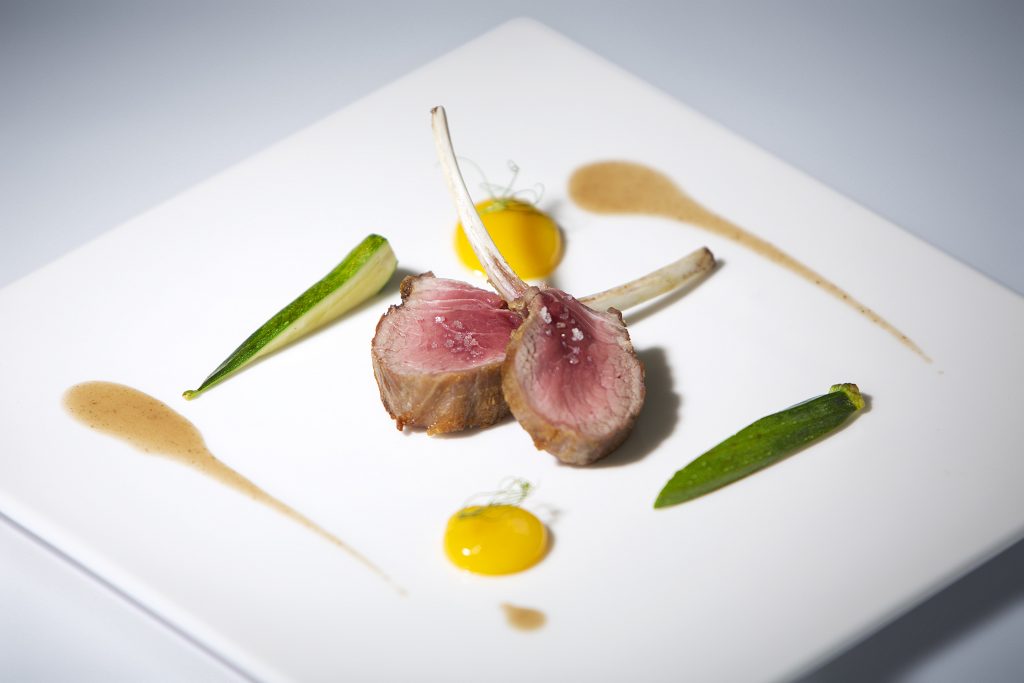 As far as activities there is the beautiful beach for relaxation, the resort pools, golf with free greens fees, Kayaks and paddle boarding. The fantastic spa with a large selection of wellness and spa treatments, shopping at your doorstep in the main town area of Isla Mujeres, rent a golfcart (the preferred mode of transportation on the island) and explore the island. Again, you can do as much as you want or as little as you want.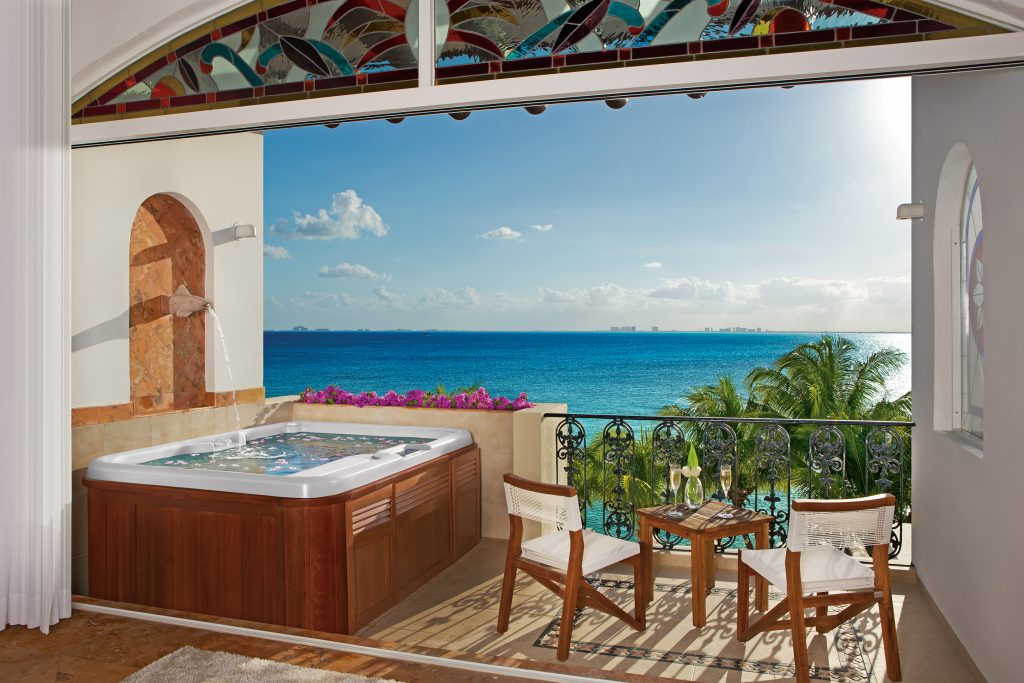 This is a great resort for those that want or need to relax and get away from it all. Great for destination weddings where it is really feasible to book the whole resort. This resort is also at the 5 star level. 
This concludes this month. Next month we will continue our journey with the rest of the Zoetry Resorts in the Caribbean. Until them good selling and safe travels.