A 'game changer' for new agents and organizations alike
FRAMINGHAM, MA, April 12, 2021 – The Travel Institute announces the launch of its TRIPKITSMONLINE introductory training course, immersing new travel agents in a 100% online, classroom-like learning experience that guides students start-to-finish in a best-practice, interactive, e-Learning environment.
"Truly a game changer in new agent training, this update represents an anytime, anywhere turnkey solution that gives new and inexperienced agents the capabilities and confidence they need to hit the ground running," remarked Diane Petras, CTIE, president at The Travel Institute.
Packing the equivalent of one year of college into a 19-lesson, self-paced timeline, the course utilizes a new, online study syllabus to guide students as they tackle the substantial content in a seamless, natural order while:
removing barriers related to delivery speed and shipping costs, which can be challenging for educational institutions and agencies in North America and overseas.
enhancing student learning and retention with greater use of The Travel Institute's unique e-Learning platform with interactive exercises, enhanced navigation, progress quizzes and more.
"Whether you are just now joining this industry, a manager looking for new talent training, or a supplier looking to train call center staff, the first step is always foundational education so that the students can better assimilate their future product, destination, and procedural training," Petras explained, emphasizing the non-profit's focus on high-quality, industry-neutral education for industry newcomers at a low-cost entry point.
"There's simply nothing else like it," asserted Guida Botelho, CTIE, director of training for The Travel Institute.  "Frontline agents are the face of our industry, and this course provides an accessible, seamless learning experience that coaches new agents with the knowledge and know-how they need to best serve travelers and contribute to the collective success of our industry," Botelho said.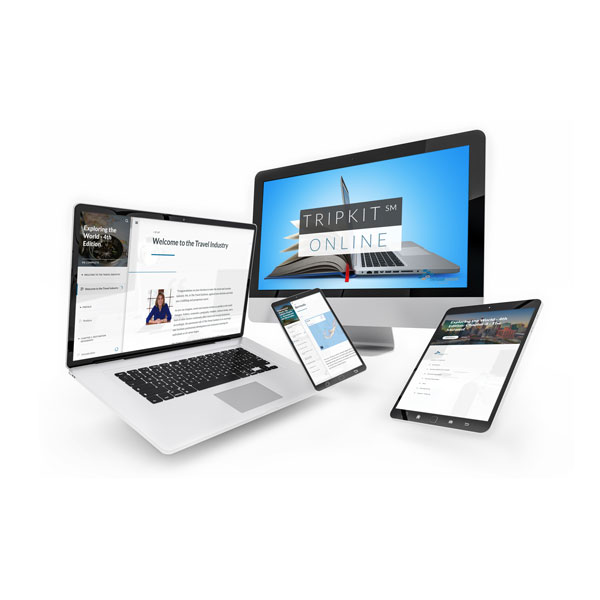 With an emphasis on real-world experiences, TRIPKITSM is self-paced and creates a career path for potential travel advisors by providing a comprehensive overview of booking air, ground, accommodations, cruises, tours and packages. It exposes potential new agents to numerous other nuances in booking travel today, including industry technology, marketing, economics, geography, weather, culture events, and a host of other factors along with customer service, sales, marketing, and business skills. Additional critical insights are included for those launching a home-based business. This course concludes with the Travel Agent Proficiency, or TAP®, exam, the industry's recognized standard for evaluating mastery of industry basics and often the first step in travel professional recognition. Recent TAP graduates are recognized on The Travel Institute website and those looking for employment or a host are identified with a "Hire Me" link.
Those exploring a career in travel or seeking a new agent training solution for their team can visitTRIPKIT ONLINE and are also invited to join a complimentary New to the Industry webinar, which now includes a special look inside the just released, online version of the course.
About The Travel Institute
A collaborative industry effort created in 1964, The Travel Institute has continuously evolved to maintain its role as the global leader in industry education and certification while staying true to its mission: dedicated solely to advancing the professionalism of both agents and industry leaders in support of individual and industry success. A non-profit, independent organization, The Travel Institute also works with leaders throughout the industry to create and deliver relevant, meaningful and rigorous coursework. Using exclusive proctored, closed-book testing to ensure its graduates earn credentials that demonstrate the highest standards of expertise and service, The Travel Institute has certified more than 26,000 Certified Travel Associate, CTA®; Certified Travel Counselor, CTC®; and Certified Travel Industry Executive, CTIE®; graduates and also administers the Travel Agent Proficiency, or TAP℠, exam to confirm students new to the industry demonstrate a mastery of travel industry basics. A trusted partner to industry suppliers and educational institutions, The Travel Institute has trained hundreds of thousands more through additional courses, webinars, and in its online Premium Access program. Throughout North America, many successful agents and high-profile leaders credit their success to coursework from The Travel Institute. Learn more at The Travel Institute.