Written By: Andy Ogg, CTIE, Editor and Marketing Director, Travel Professional NEWS®
With the continuous rise of social media and technology, the travel industry is also dynamically moving at its' own pace. Here we tackle what trends worked in 2019 and what we can expect for the next to come this year of 2020.
What went well in 2019:
A subtle sales approach
Persuade your clients about their dream country or city in a subtle way. In this way, you are giving them teasers or a short introductory of what they can experience when they visit that specific place, and will remember you for it. For instance, you may share posts of amazing videos of cultural experiences or food photos that you know will catch your clients' attention. If your clients don't really have a fixed destination, you may also inspire them to do so.
You may also try posting photos with quotes. According to Passport Online, data for 2019 indicates famous quotes coupled with eye-catching photos are the way to go. The top three posts for the highest number of shares were all quotes from very different messengers including Bob Marley, the Dalai Lama and author and linguist Benny Lewis. Marley took the big prize for most shared post of 2019 with his quote "If travel was free, you would never see me again" being shared more than twice as much as the next leading post.
Seeing more of who works behind the screen
Because of the push of organic content, consumers are curious to know who is behind the page of a brand and what happens usually behind the scenes. Whether it be on Facebook and Instagram, more and more brands are featuring their employees and having a more authentic connection with humanizing brands. For your travel agency, you may share a bit of information about yourself so you build a more authentic relationship with your clients.
Social Media as television
Aside from going on social media to be read and be updated about information, consumers are more keen on seeing videos. According to a report from Statista, more than 50% of digital videos are now viewed on their phones. Thus, the rise of vertical format videos such as featured in IGTV and Facebook Watch. You don't necessarily need a professional camera and crew to video your experiences as a travel professional. Just set up your phone and use the front cam or even film a bit of snippets while you're on a trip so the get to see a glimpse of what you can offer.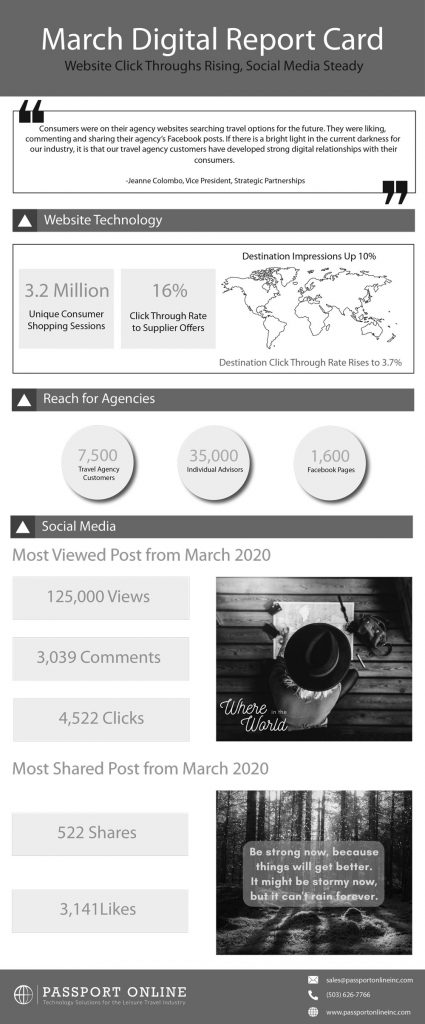 What to expect in 2020:
The rise of Eco-tourism
Since more and more tourists are supporting the eco-friendly lifestyle, eco-tourism has become a new trend in 2020. Ecotourism means "responsible travel to natural areas that conserves the environment." Examples here are checking in eco-lodges or participating in bio-dynamic farms. With this idea, you may provide this new offering to your clients and give a different experience to their travel experience as well.
Traveling to lesser known destinations
According to booking.com, over half (54%) of global travellers want to play a part in reducing over-tourism, while 51% would swap their original destination for a lesser known but similar alternative. Nowadays, consumers want to be the ones to discover the destination and experience the authenticity of it, compared to going to the usual popular tourist spots
According to Passport Online, British Colombia, Alaska and St. Martin are some of the most viewed destinations of 2019. Be sure you offer lesser-known destinations for your clients so they have an option to explore and even share the experience to their friends and families.
More social media engagement
"Our travel agency customers have established their identities in the digital space and are engaging with existing and new customers on websites and on social channels," said Jeanne Colombo, Vice President, Strategic Partnerships, Passport Online. As a travel professional, you can use this as your advantage. Try joining groups on Facebook that give interest in you then you can make clients there, or even promote your website by posting more on your Instagram or Facebook Stories.
References:
https://partner.booking.com/en-gb/blog/bookingcom-predicts-top-travel-trends-2020
https://medium.com/@invoker/are-closed-and-secret-facebook-groups-the-future-of-social-media-25870c0ceeb1
https://www.statista.com/statistics/444318/mobile-device-video-views-share/
http://www.passportonlineinc.com/pdf/POL-DigitalReportCard2019-2.pdf