Written By: Andy Ogg, Editor and Marketing Director – Travel Professional NEWS®
In the past two issues, we discussed a lot of information regarding the creation of high quality content from your smartphone. In Part 3 of this series, we are going to look into Tools, Applications and Gadgets to producing the highest quality content even easier.
In the first two parts of this series, we dove into the functions of a smartphone camera and in what situations those options can be best utilized. In the 2nd part, we looked into 5 Tips and Tricks to create high quality content using the features which we discussed in the first article. Now it's time to take it up one more notch and discuss some very powerful tools that can turn your smartphone from a picture taker into a content creator. And the best part is that none of these items will break the bank.
Up until about 10 years ago, camera technology and camera equipment were expensive, very expensive. On top of the high cost of purchasing high quality camera equipment, it was bulky and was not easily transportable.
The technology that was used for decades to capture high quality movies, videos and photos is now available to anyone for pennies on the dollar. In fact, an old friend of mine who has a Masters degree in Film Creation and Art expressed his thoughts "The power of today's smartphones and equipment is unreal. What cost me thousands of dollars in 2007 is now available for $49.99 online and is at your door the next day. There is nothing stopping the average person from creating amazing content in today's world besides their vision and imagination."
Coming from a man who has made his career in content creation, it's a powerful realization in the ability for you to create, market and share awe-inspiring videos with very little expense. The Smartphone In Part 1 of this series, we discussed the minimum requirements that your device should hold. Those requirements should be:
– At Least a 12 Megapixel Camera
– A Built-In Flash
– Video Capabilities of 1080P at 30 Frames per Second
Now most smartphones, even if it is a few years old, hold those requirements but if by chance you are still in possession of a device that doesn't, it may be time for an upgrade. All of the newer phones on today's market have impressive features, processing power and the ability to create amazing content out of the box and as we have discussed in the previous articles, getting to know how to use these powerful devices is key.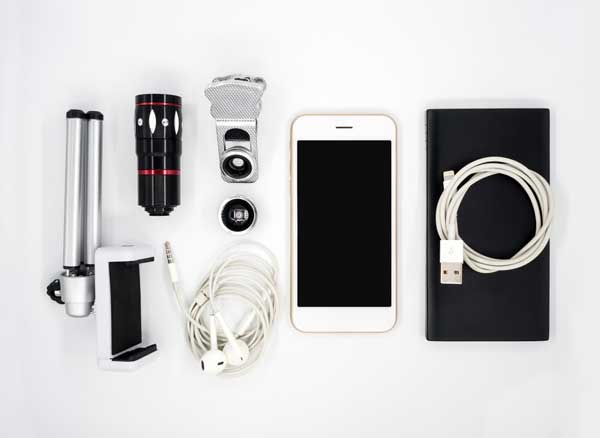 I've got the smartphone, now what?
There is a wealth of tools and hardware available in today's market to create great content, all from that smartphone in your pocket. Let's look at 3 things that will take your content creation to the next level.
A Gimbal
Years ago, a gimbal was in the thousands of dollars but today, you can purchase a hand held auto stabilizing gimbal for around $100. The technology in these devices is unbelievable and truly an invaluable tool in creating fantastic content while traveling.
Most gimbals are battery powered and host several abilities such as the ability to stabilize a smartphone or camera while walking or moving, thus alleviating the ever too common "shake" or "bounce" that usually occurs when holding your smartphone in your hand. The stability and smoothness that occurs when using a gimbal increases the overall quality of your content, for video or photos.
Most gimbals on the market today offer several features and several functions which make the purchase of a gimbal, very easy to justify.
A Gimbal Device Offers:
Smooth video capturing while walking or standing
Ability to capture unique and different angles with the use of the handle and extended reach
"Follow" mode allows you to hold the gimbal and for it to stay constant on an object, despite the actions or movements you make
"Focus" mode allows you to move the gimbal handle, thus moving the camera in the direction that the handle is moved toward.
"Follow" mode with panning allows you to focus on an object while using directional buttons on the handle to manually pan or move the camera around. This allows for beautiful landscape shots or panoramic images with minimal work and high quality results.
"Selfie" mode allows for the smartphone to capture selfies with ease and the longer handle of the gimbal enables for more people to be included in the image or more of the background to be seen when capturing the content.
Recommended Gimbal: Zhiyun Smooth 4 3-Axis Handheld Gimbal Stabilizer w/Focus Pull & Zoom
Purchase on Amazon: https://amzn.to/2TKm0Q6
A Selfie Stick
For just under $10 you can purchase a selfie stick that can extend several feet in front of you to capture better images while on your travels. Whether you are a selfie fanatic or just want to have the option of taking better images, a selfie stick is extremely useful and versatile for creating content on the go with your smartphone.
There are all quality of selfie sticks available today from a $5 version to a $100 version. The more expensive selfie sticks are usually lighter in weight, fold up smaller and offer bluetooth connectivity so capturing your images is even easier when your phone is in the device.
A Selfie Stick Offers:
Ease of taking selfies with further distance from yourself.
Allows ability to capture more people in a selfie image or video.
Allows for ability to capture unique and creative angles, such as high above a crowd, down low or even over a wall or object with the extended reach that the stick provides.
Higher end models offer bluetooth connectivity making it a breeze to capture photos or videos when the smartphone is secured in the stick.
Recommended Selfie Stick (Budget Friendly): Selfie Stick Bluetooth, 45 Inch Extendable Selfie Stick Tripod with Wireless Remote Control
Purchase on Amazon: https://amzn.to/2TNWxFn
Recommended Selfie Stick: Bluetooth Selfie Stick with Tripod, Remote 59Inch MFW Extendable Monopod with Tripod Stand
Purchase on Amazon: https://amzn.to/2E8UNRF
Lenses
You are reading this correct in case you were confused. There are TONS of options for additional lenses that can be used and utilized for your smartphone. Everything from telescopic to wide angle is available and most are very affordable in today's market. Most of these lenses slide over the actual camera lens on the smartphone and secure with a pressure clip of some sort.
Purchasing a few lenses is a great start into creating high quality content from your smartphone and continues to be a useful tool for smartphone photographers.
Lenses Offer:
Telescopic Lenses: Add the ability to capture an object, image or video while from a far distance. Whether it's an object, person or scene, a telescopic lens will allow you to focus on the image from a great distance, without having to use a digital zoom to do so. The results are a much clearer image in a much higher quality.
Wide Angle Lenses: Also known as a "fish eye" lens allow you to capture a wide view of a small space. These lenses are a fantastic option for those trying to capture a hotel room or cabin on a cruise ship as the wide angle, will allow you to show most of the room in just one image. Additionally, a wide angle lens can assist in creating unique and fun looking content without all of the "know how" that many professional photographers have spent years to learn.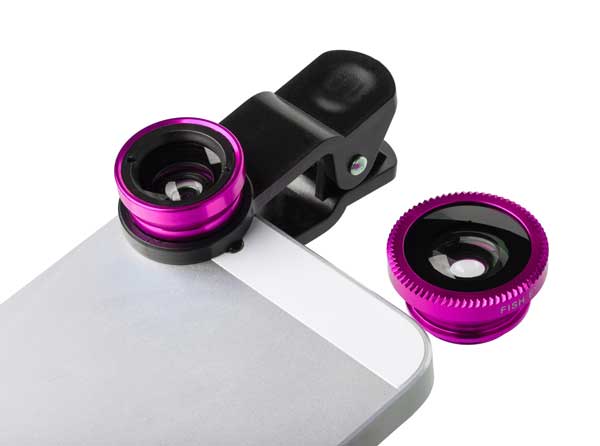 Recommended Telescopic Lens: Cell Phone Camera Lens, 12X Zoom Telephoto Universal Clip On HD Lens Kit
Purchase on Amazon: https://amzn.to/2Xc9P0K
Recommended Wide Angle Lens: Cell Phone Camera Lens,TODI 4K HD 2 in 1 Aspherical Wide Angle Lens, Super Macro Lens,Clip-On Phone Lens
Purchase on Amazon: https://amzn.to/2TOUOzR
A Versatile Tripod
Tripods, like many other items have come a long way from the traditional style. Today, there are many tripods that utilize flexible legs to adapt to all kinds of terrain and situations. There are even tripods that can "stick" to items to enable the most unique shots possible.
Including a tripod in your smartphone camera tools can be a great tool and is highly recommended. Tripods offer a lot of great options and versatility, especially with smartphones as the device.
Tripods Offer:
Ability to stage your smartphone on an object or stationary object to capture clear and quality content.
Flexible tripods allow for adaptation to environments that are not perfectly flat or level, allowing you to capture the content without having to spend time setting up the smartphone.
Tripods are great for video, time lapse and photo content creation.
Recommended Versatile Tripod: Xenvo SquidGrip iPhone Tripod, GoPro Tripod – Flexible Cell Phone Tripod Stand with Ball-Head 360,
Purchase on Amazon: https://amzn.to/2EaZ7Qu
Lighting
The need for huge box lights are a thing of the past in todays technology and with the high power output of LED lighting, the amount of lighting available from a small source is simply astounding. Whether it's a dark chapel in Europe or a photo of a resort at night, having some lighting in your pocket for your smartphone video and photo creation is always a great idea.
The options are endless in tems of lighting options, in fact there are now "selfie" lights that attached to the back of your phone to provide high quality lighting for you, making the video or photo even better. The possibilities are endless when it comes to the power of a well placed light and as I discussed in Part 2 of this series, lighting is everything to construct high quality content of your adventures from your smartphone.
Recommended Lighting for Selfies: Auxiwa Clip on Selfie Ring Light
Purchase on Amazon: https://amzn.to/2Ec0j6d
Recommended Lighting for General Use: LED Video Light for SmartPhone Use
Purchase on Amazon: https://amzn.to/2Eb08YO
Applications for Photo Editing
No matter how much work you put into creating the perfect image from your smartphone, a little touch up is always a great idea and can typically turn a good image into a great image. For this, you can use a professional photo edition software like Adobe Photoshop or Adobe Lightroom, or you can simply use an application on your smartphone.
In most cases the results are similar, depending on the content, but the ease of a smartphone application definitely has its benefits. Whether you are looking to edit a photo, resize or crop an image, there is an application for it. In fact, there are some fantastic applications that allow you to create images with text and branding, all from your smartphone.
Below is a list of applications that are recommended for a variety of purposes and as you'll see, the options are endless.
Applications
Canva: Canva allows creation of images from your content with branding, text and even infographics. The power of Canva creation is huge, especially in marketing your business online.
Learn More: https://www.canva.com
Snapseed: A fantastic photo edition application with the ability to tweak color, focus and filter with just a few taps of the screen.
Learn More: Search "Snapseed" in your smartphone application store.
Prisma Photo Editor: Allows for cropping, color adjustments and much more.
Learn More: Search "Prisma Photo Editor" in your smartphone application store.
Adobe Photoshop Express: A fantastic tool for those looking for a bit more power in their photo editing ability. It uses many of the same tools that Photoshop users are familiar with and provides fantastic tools in the application.
Learn More: https://www.photoshop.com/products/photoshopexpress
iMovie: Only on Apple smartphones, iMovie allows you to create, edit and adjust videos to create fantastic marketing videos, all from your smartphone. The ability to brand and add music is also available to ensure the highest quality of content.
Learn More: https://itunes.apple.com/us/app/imovie/id377298193?mt=8
Filmora Go: Includes transitions, effects and much more for video editing and creation.
Learn More: https://filmora.wondershare.net/video-editor/
With these tools, any or all of them, you will be able to create much more impressive content to promote your Travel Business while doing what you love to do, which is traveling! The power of content is an unstoppable force in today's digital world and by creating your own content, unique and special to your business, you will not only promote yourself in a professional manner, but see the fruits of your labor by increased leads and sales!
I hope you've enjoyed the final part of this series and that this information has helped you in creating better content from your travels to market your Travel Business!