Written By: Tom Ogg, Co-Owner – TravelProfessionalNEWS.com
Online Presentations for your Travel Business
Everyone has either used or experienced graphical slide presentations such as those created by Microsoft's Power Point, Apple's Keynote, or Google's upcoming Slides. The purpose of all of these programs is to create online presentations and shows that are used to help speakers emphasize their points. These programs are also used heavily in eLearning presentations and lend themselves to enhancing verbal presentations by offering the attendee a visual confirmation of an audio presentation. 
These online presentations programs are really appropriate when doing travel presentations as they are quite capable of displaying textual, graphical, photo, audio and video files during one presentation. The combining of these various files makes using slide presentations very engaging for the audience. 
However, creating a high quality online presentations are critical for its success. While there are dozens fo "do's and don'ts" to consider while creating a online presentations here are the top 11 concepts to consider.
11 Concepts for a Great Graphical Slide Presentations
Keep It Simple
Always remember that your presentation isn't about the slides, it is about you. Creating a slide show that is both crowded with text, graphics, charts and other detail will detract from the viewers experience and satisfaction. Your slide show should only enhance your presentation and the viewer's capacity to understand what is being presented. 
Limit Text and Bullet Points
A quality slide presentation will not rely on lots of text or bullet points. Nothing is more boring for viewers than having the presenter read off the text and bullet points as though they are the presentation. Why not use quality graphical images to introduce the next topic? As an example, rather then list 10-bullet points of why you should use a CRM to manage your clients, why not find a funny picture, cartoon or comic to make the point instead? By using humorous, informative, engaging, serious or other types of images, you can establish a rapport with your viewers based on their interaction with the presentation.
Use Custom Branded Themes
This is so important. Have a custom theme created just for your presentations that are branded for your agency only. You can find themes that you really like and then hire a professional to incorporate the things you like about the theme with your branding. Use the same branded theme for all of your presentations for consistency and high impact. Along with your custom theme, have the designer create as many pages as you can think of. 1-column, 2-column, bullet point, infographic, pages with images, quotes and anything else that you can think of. The point is too have your branded presentation theme to be consistent even while using various formats for page structure. There are litterly tens of thousands of slide presentation theme developers available at minimal cost. As an example, fiverr.com has hundreds of developers of PowerPoint, Keynote and Slides themes for a nominal amount of money. One developer will create up to 50-different themed slides for $40.00. Many will create a smaller amount of slides for as little as $5.00.
High Contrast
Never use colors such as a light beige font on a cream background. Always use a dark font on a light background and when absolutely necessary for the presentation, use a white font on a dark background. Remember that many people have a difficult time seeing various colors and if they are not strongly contrasting, you run the risk that people cannot see your presentation.
Limit Page Transitions
When creating your presentation, you should limit page transitions to only those pages where it directly adds to the viewer's overall experience in viewing the presentation. Transitions, especially lengthy transitions, tend to be vseen as a waste of the viewers time. This is also true of redundant introductions and animations. If you do use transitions, make sure that they operate quickly and convey the kind of excitement that adds to the overall viewing experience.
Use Infographics
All of the slide programs come with an abundance of tables and graphs. Unfortunately, one can easily tell when they are native to the program being used. Infographics on the other hand can share graphical and tabled content in a much more exciting and engaging way.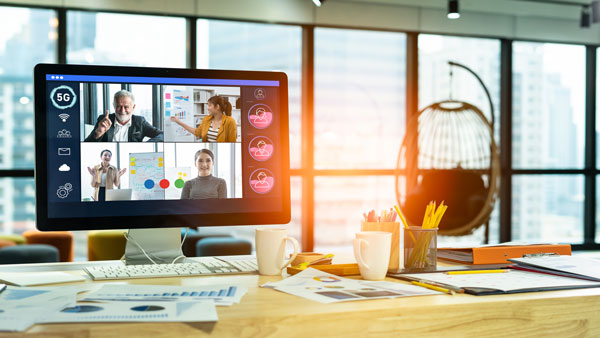 Use Video and Audio for your online presentations
Video is a great way to engage viewers who enjoy the blend of textual, graphical, video and audio mix in the presentation. Video can be uploaded into the slide show or can have a viewing screen embedded in the presentation to play web-based video that is on sites like YourTube or Vimeo. Audio files can also be uploaded and played when a slide is presented. This is an excellent way to make points during a presentation.
Use High-Quality Graphics for online presentations
Avoid low-end clip art, poorly designed graphics, blurry photos and all graphical images that do not shout professionalism. Always use high-resolution stock photos that you have obtained permission or license to use. Avoid using the line art that is included with Power Point, Keynote and Slides. It has all been used over and over again and by including line art that viewers have seen numerous times, you sacrifice your professionalism and creativity, as far as the viewer is concerned. Always use original graphics.
Online Presentations – Fonts, Color and Layout
You should limit the fonts you use to one family and not use more than 3-weights of the font. Make sure that the font you use is highly readable (sans serif is the best) and also memorable. Avoid using the staple fonts such as Times New Roman, Ariel, Helvetica and others that are used everywhere on the web. Instead use a multi weight sans serif font with its own personality. Ditto for the colors that you use in your presentation. Avoid low-contrast colors like the plague and lean towards colors that are slightly unique, rather than those that are completely familiar. If you are using a custom designed theme for your online presentations make sure to maintain the same layout features all the way through the presentation for continuity and branding purposes.
One Point Per Slide
Making just one valid point per slide is critical to the success of your presentation. A presentation is much better off with as many slides as there are points than to have fewer slides with multiple points. This is because of the very nature of a graphical slide presentation that promises to present content in a logical and well thought out and engaging manner.
Minimalistic Approach for Online Presentations
We have all heard the old adage "Less is Best" and this is especially true when creating your graphical slide presentation. Using a minimalistic approach to design and layout will reward you with a high level of engagement from your viewers. Always ask yourself "is this absolutely necessary for the presentation?" and if the answer is no, eliminate it.

As you can see, there are many concepts that one must consider when creating a graphical slide presentations and paying close attention to the overall result is how successful Graphical Slide Presentations are created.