Written By: Tom Ogg, Co-Owner – Travel Professional NEWS®
As social media continues its invasion into billions of people's lives it is getting harder and harder to post engaging content as the world adapts to the quick moving environment of stimulating visual presentations. Video, audio, ebooks, infographics, white papers, reports, destination guides, ship, port, AI reviews and on and on become commonplace to the average social media user. There are so many ways to share content it is almost dizzying at this point.
Of the many choices for delivering content on social media, Memes (pronounced "meems") Is one of the most effective ways to reach potential new clients. Social media memes are colorful, textual and graphical presentations usually conveying an opinion, timely comment, wit or humor. While memes have been around for a long time before social media, they have come to maturity as an effective communication tool.
Memes are effective in social media because viewers are attracted to the easy to read message and promise of humor, wit or some other engaging message. Successful memes may be shared numerous times. We have had memes that went viral and reached hundreds of thousands of consumers. Here is an example of such a meme.
Here is How to Create Your Own Meme. Memes are great because you do not have to have any specific layout talent or graphics processing software. They are pretty much free to make and use and you can create as many as you would like. All you need to get going is an idea that would engage readers on your social media platforms. It can be humorous, witty, catchy or shocking. When you come up with a good meme and it goes viral you will see just how much power lies in meme marketing.
Here are Some of the Best Meme Creation Websites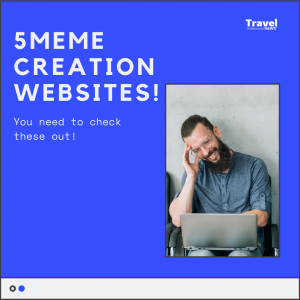 makeameme.org: Here is another free site that allows you to create as many memes as you would like. Tons of photos to use and a wide variety of fonts also. This site is very much like imgFlip.com.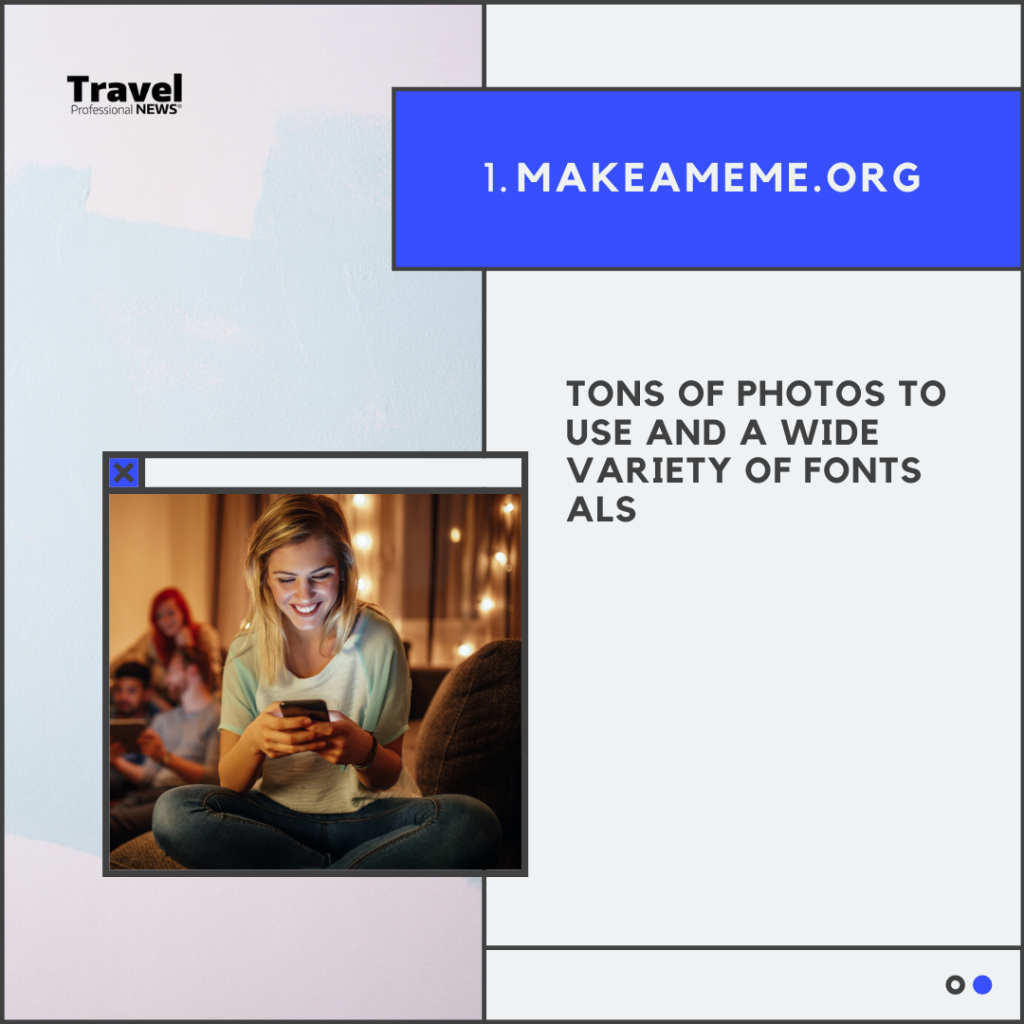 kapwing.com: lapwing is unique as it doesn't house an inventory of images you can use, but one uploads his or her own images to create memes. Again, you can make as many as you would like and it is all free.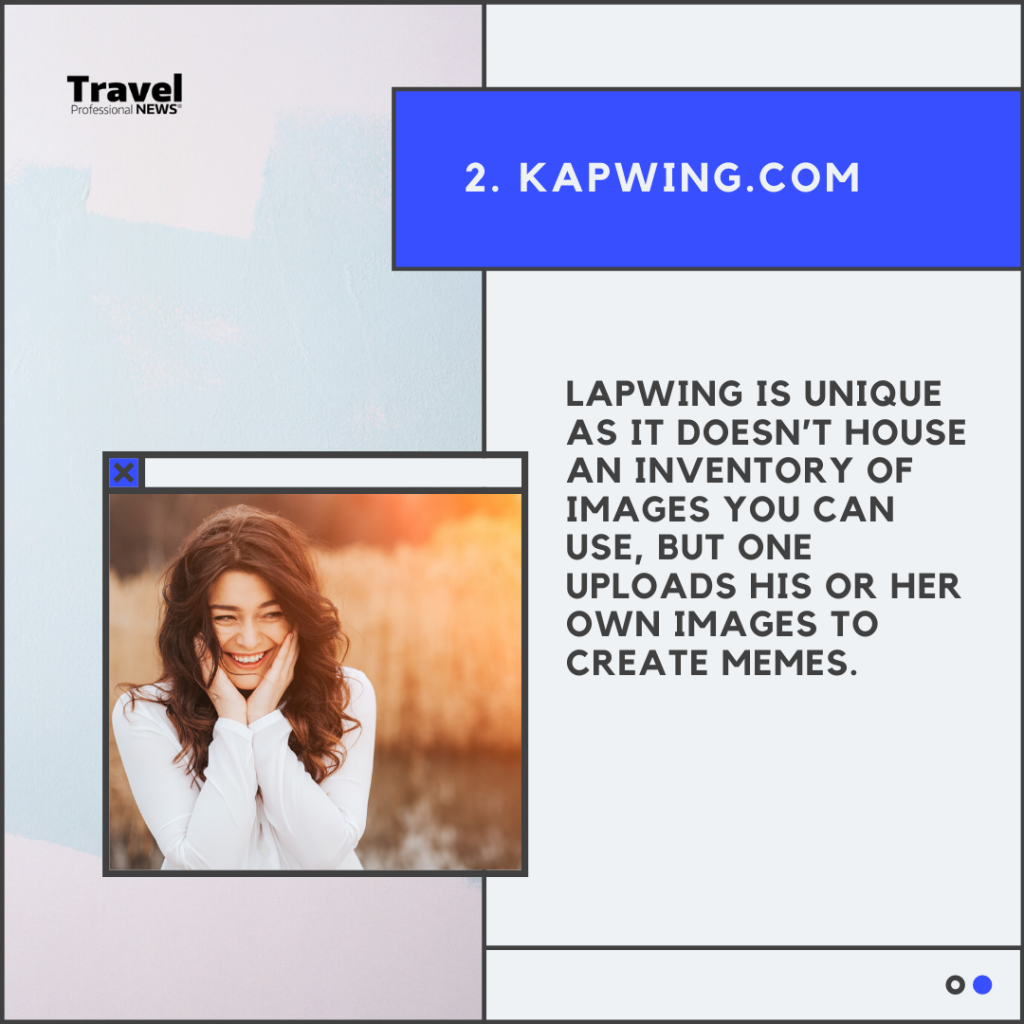 canva.com: Everyone should know about Canva as It is a free graphics tool that easily creates content for social media. It also includes a robust meme design and creation tool as well.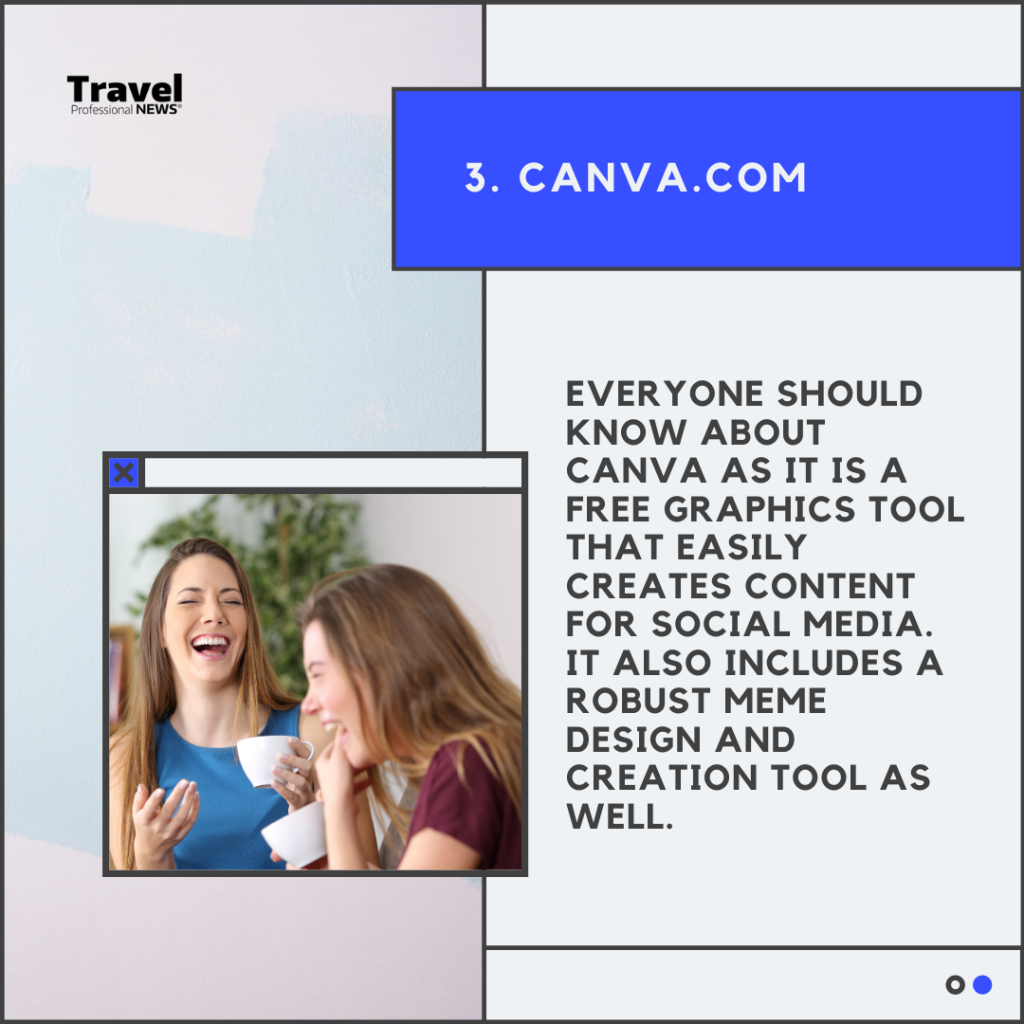 QuickMeme.com: QuickMeme.com is another meme generation site with some unique pictures that you can use.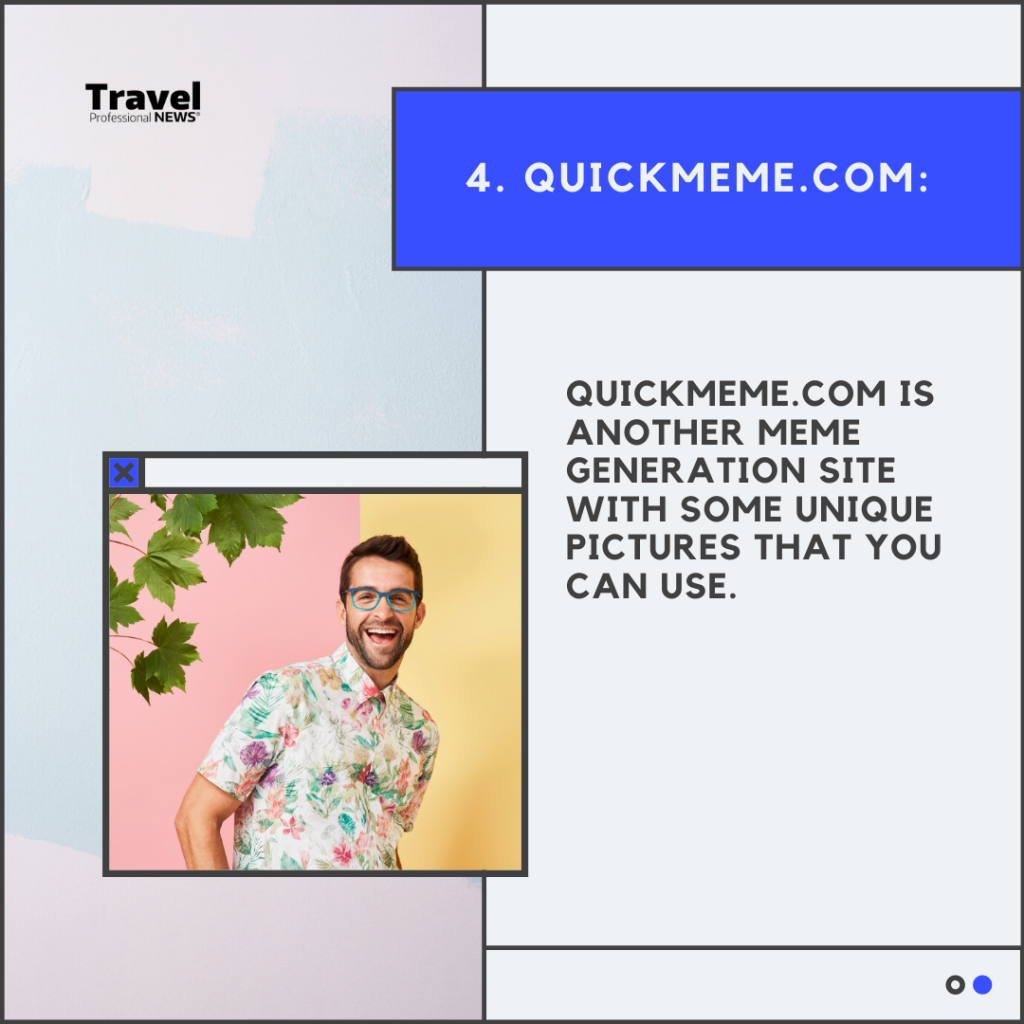 MemeDad.com: This is an easy to use site with tons of pictures and you can upload your own, as well.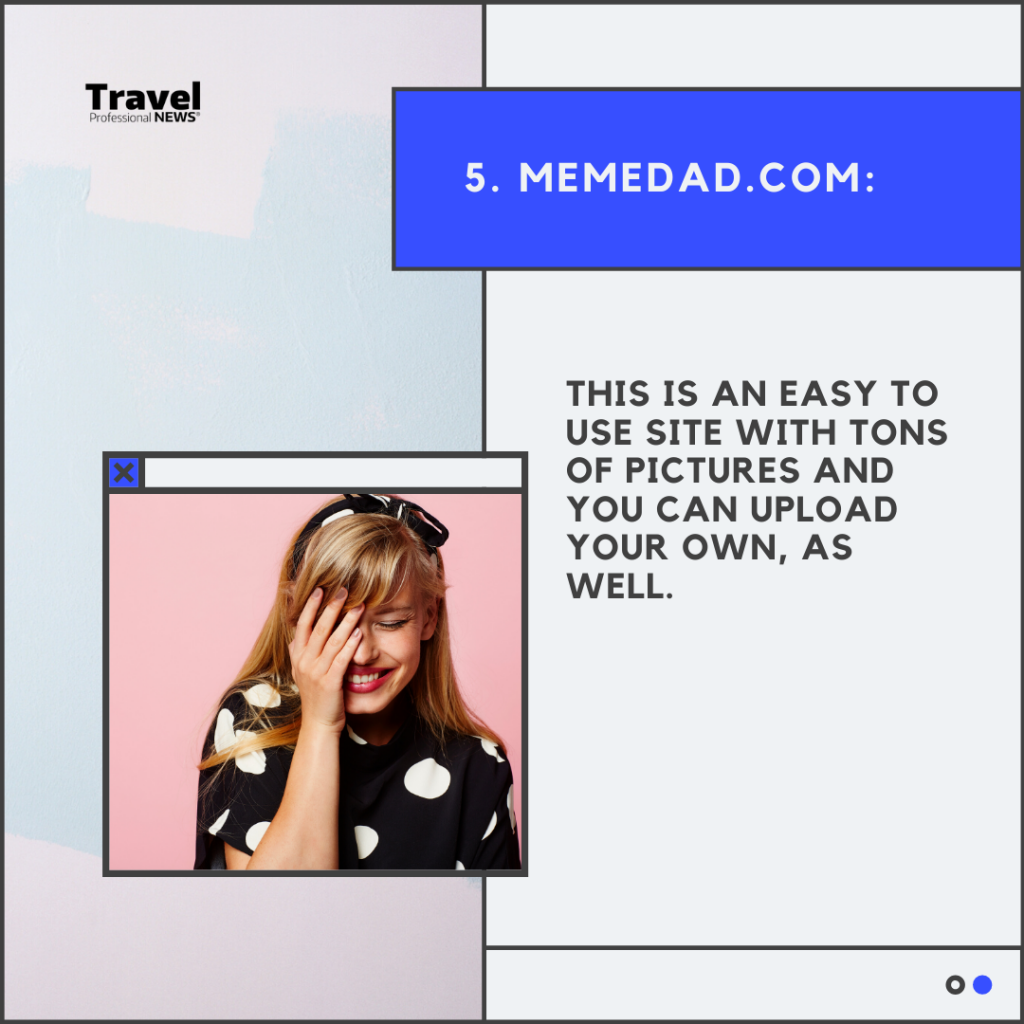 Visme.com:
Visme is an acclaimed online visual design tool for making infographics, presentations, reports and other forms of visual content for social media sites. Visme includes a large set of social media templates at https://www.visme.co/templates/
Meme as Marketing Tools
Memes can really spread the word to new potential clients because of their very nature. They beg to be shared and liked on the various social media platforms, but there are several considerations.
Branding, Branding and Branding: Be sure that your memes are consistent with your branding efforts and are in line with the image that your brand projects. Use images and textual comments that support your brand in a way that confirms what you are trying to project. If you sell luxury travel, use appropriate images with sophisticated content. If you specialize in selling river cruises, the same is true.
Include Your URL and Logo if Possible: If your meme is shared, people will have no idea where it came from. Always include your website address in small type wherever it is most appropriate. Readers will see it and visit the site just to see what is there. Every time we boost a meme with the TPC url we get new travel professional members from it. If you can work your logo into the image, so much the better.
Create Your Own Images: Graphics creation software has become so easy to use that you can create your own images. Or, you can visit sites like fiverr.com and hire someone to create an image for you for very little money. If you want to shout your brand, you can get a series of images created that you may use in the memes.
Consider Using Watermarks: One way to be sure that viewers of your meme know that you created it is to use a watermark that includes your name, logo or website address. Watermarks are easily created and there are several websites that allow you to embed them into your photo online. WaterMark.ws is an example of one.
Avoid Controversial Topics: Memes are perfect for making statements on controversial topics but avoid doing so at all cost. Political memes, religious memes, or other topics should be avoided since they may find potential clients that are offended by them because they have a different position or belief.
Keep it Fun: The best meme is one that people enjoy and want to share. By keeping your Internet memes fun and engaging you will add a quality element to your brand and viwers will be more likely to reach out to you.
Using TPN's Memes
Travel Professional NEWS has developed several themed meme packs that focus on various niches in the travel industry that agents use to promote their value to consumers. To access the free downloads simply visit https://www.travelprofessionalnews.com/category/resources/free-downloads-for-travel-professionals/
These memes were professionally developed to spread the word about why using a travel professional is so important in 2020. Internet memes are an excellent way to grow your social media presence and are also fun to use. Give it a shot. Visit one of the meme creation sites and create your first meme and share it and see what happens. Best of luck with it. I hope you get a ton of new clients from incorporating memes into your social media marketing.