Marketing Mania for Travel Agents
Take the Guess Work Out of Your Travel Agency Marketing in 2020!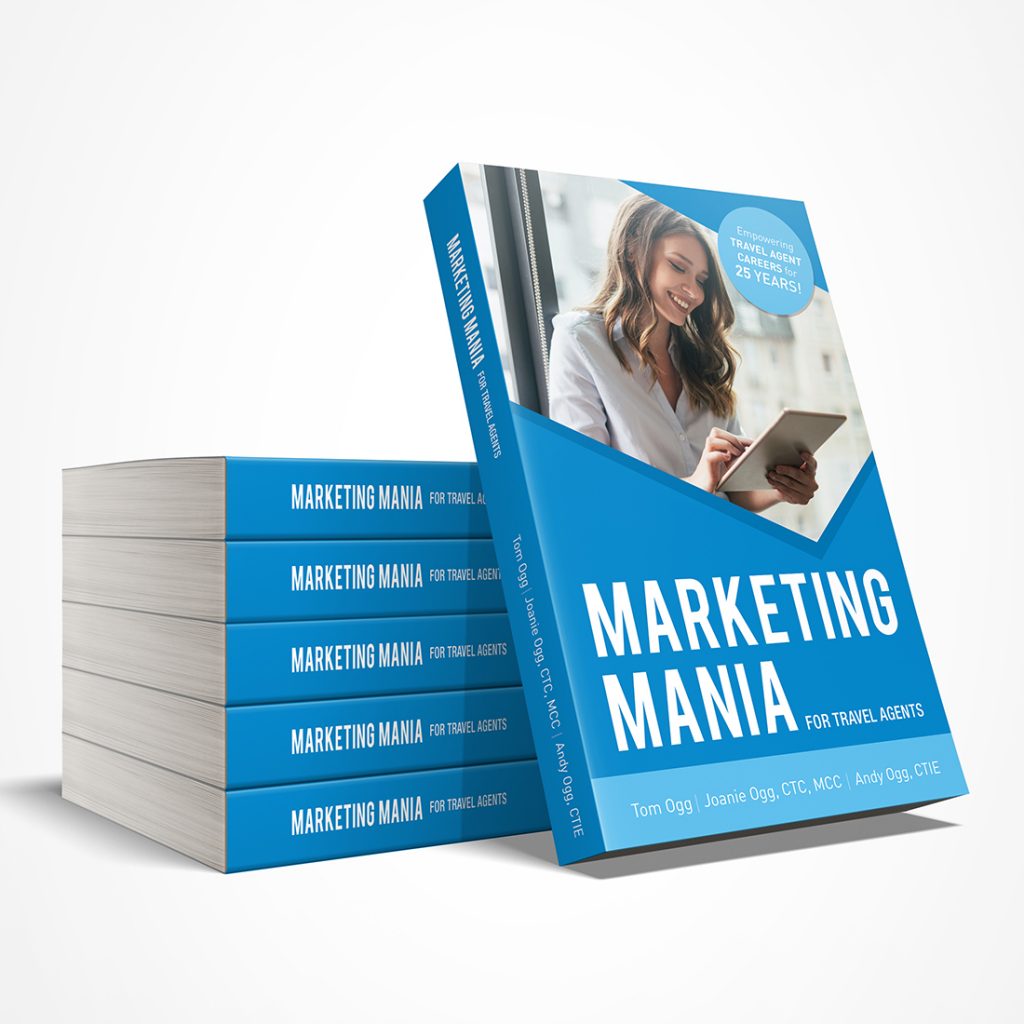 Published: May 2020
Authored By: 
Tom Ogg
Joanie Ogg CTC, MCC
Andy Ogg, CTIE
Description
This book offers the reader easy to follow steps on how to successfully market your own thriving home based travel business and takes the guesswork out of the effort by showing you how to avoid the common pitfalls."Marketing Mania for Travel Agents" is based on real time experiences of travel professionals to help you unlock the secrets necessary to give you everything you need to know to grow your flourishing home based travel business. Completely updated in 2020, this new edition of "Marketing Mania for Travel Agents" implements the latest trends of marketing in the highly interactive world of digital marketing!
Chapter Outline:
Targeting Your Audience
Chapter 1: The Power of Branding
Chapter 2: Marketing for Success
Chapter 3: Making Your Website Work
Chapter 4: The Internet and You
Chapter 5: Winning the Online Marketing Game
Chapter 6: Viral Marketing
Chapter 7: The Group Advantage
Chapter 8: A Sea of Opportunity
Chapter 9: Maximizing Productivity
Chapter 10: Energizing the Entrepreneurial Spirit
Chapter 11: For Home Based Travel Marketers
About the Authors:
The Ogg Family has a cumulative tenure in the travel industry of over 100-years. Their experience and understanding of the Home-Based Travel Agency opportunity, combined with their enthusiastic entrepreneurial spirit, make this title a must read for those looking to either start a home-based travel business or to further their success as a Travel Professional.
To Access More Tools to help you get started as a Home Based Travel Agent, visit www.HomeBasedTravelAgent.com.
Purchasing Options
This book is only available for purchase. You can purchase an interactive Digital eBook or Printed Hard Copy through HomeBasedTravelAgent.com by Clicking Here:

If you wish to purchase this title through Amazon.com, Please Click Here: