Advertise With Us
TravelProfessionalNEWS.com is one of our fantastic avenues to expose your brand, product or service to Travel Professionals. On top of the TravelProfessionalNEWS.com, we offer a multitude of avenues to reach quality  Travel Professionals. Some of our sites include TravelProfessionalCommunity.com, FindaHostTravelAgency.com, HomeBasedTravelAgent.com, as well as our direct Email Marketing, Artwork Creation and Webinar services.
We pride ourselves on the quality to deliver measureable results and provide exposure to some of the best Travel Professionals out there. Whether they are home-based, hosted, or storefront, chances are that we can help you reach them in a professional, organized and effective manner.
For more details about our followings and the Travel Professionals we can connect you to, please Contact Us.
Feel free to also review our Client List or read Testimonials from our clients.
2020 Media Kit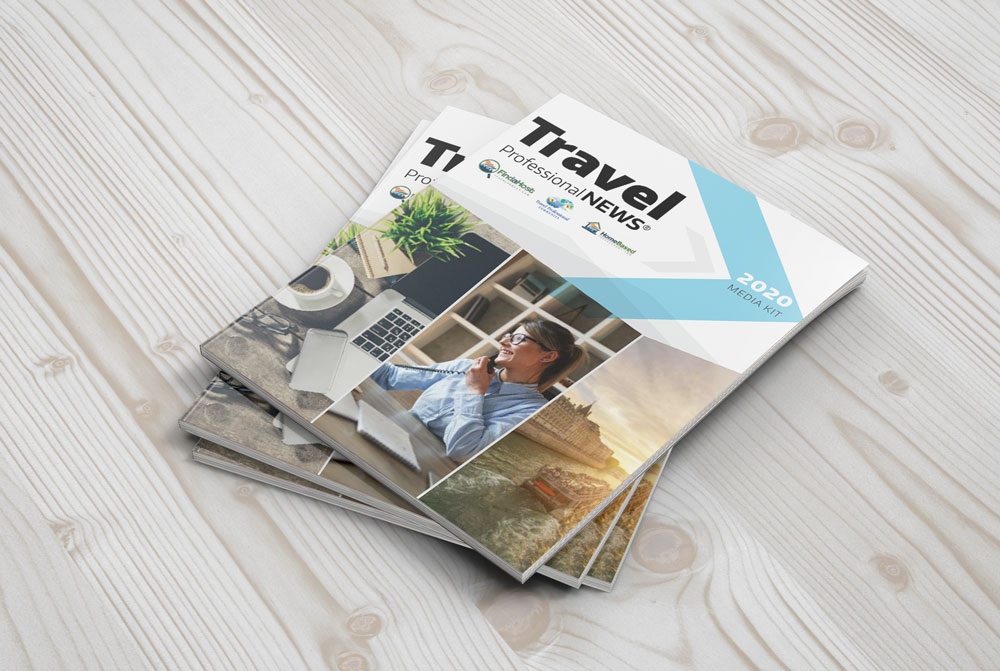 Travel Professional NEWS Digital Magazine
Delivering Since 1999
Over 9,700 Monthly Readers
Fully Digital and Interactive with Videos / Links / Social Media / Cross Linking
Available Also in Print Copy
With an ever changing climate of digital technology, Travel Professional NEWS continues to stay on the forefront of digital publishing with interactive content that not only is easy and fun to use, but effective. Every issue of Travel Professional NEWS continues to grow and include engaging, useful and important information to help Travel Professionals grow their Travel Business to new heights. 
Having your company in Travel Professional NEWS Digital Magazine allows for our readers to instantly engage with your product, brand and information. With our Active Linking, readers have the opportunity to instantly engage with your message to learn more. In addition, inserting promotional or educational videos about your company is a breeze with our highly innovated publishing software.
---
Email Marketing Delivered to Travel Professionals
Privately Owned List Established in 1999
Emails Sent to Over 80,000 Travel Professionals
Geo Location Targeting Available
Full Reporting Available Upon Request
For over 20 years, our Email Marketing services have been a successful and engaging way for Travel Professionals to learn and engage with the top providers of travel services. Ensuring that our list is always well maintained, we continue to deliver high quality information and messages to our subscribers, to help them grow and succeed as a Travel Professional.
Promoting your business through our Email Marketing services allows for our subscribers to instantly engage with your content, information and offerings. While many of our competitors send multiple emails per day, we do not. We respect our subscribers and want to ensure we don't overload them with messages. By doing this, our subscribers continue to show their appreciation by engaging with the Email Marketing messages we provide to them.
---
Webinars Hosted by TravelProfessionalNEWS.com
30 Minute or 60 Minute Webinars
Fantastic Way to Connect, Engage and Educate Travel Professionals
Promoted, Recorded and Shared Upon Completion
Comprehensive Reporting Included
For over 6 years, we have been promoting, hosting and recording Webinars for our clients. Host Agencies and Suppliers alike see fantastic results from this convenient and effective method. 
Whether it's informing prospective Travel Professionals of your business and offerings or providing valuable information to help Travel Professionals grow their business with your services, Webinars continue to be an effective platform for attracting, education and engaging with quality Travel Professionals.
---
TravelProfessionalNEWS.com
Established in June 2017
Promoted to over 80,000 Travel Professionals
Top Destination for Positive and Timely Travel Industry News
Fully Responsive and Interactive
Articles and Features published in the Travel Professional NEWS Digital Magazine are additionally cross promoted on the TravelProfessionalNEWS.com site. This cross promotion of your content ensures that readers who prefer a blog style article have the ability to enjoy your information, while also maximizing the search engine visibility of your content on our platforms.
Having your company represented on TravelProfessionalNEWS.com allows for visitors of the site to instantly engage with your product, brand and information. With new content added throughout the day, SEO and traffic to TravelProfessionalNEWS.com continues to increase while becoming a favorite destination for quality Travel Professionals.
---
HomeBasedTravelAgent.com
Established in 1999
Has Enabled Tens of Thousands to Join and Successfully Run a Home Based Travel Business
Home of the Free Video Study Course on How to Start a Home Based Travel Agency
Fully Responsive
Completely Rebuilt in March of 2018
For 2019, HomeBasedTravelAgent.com continues it's progressing of complimentary resources, tools and information to assist visitors of the site in setting up and running a successful home based travel business. This site has been published and live for well over 20 years and during time has achieved fantastic search engine rankings and the new website has just improved that already stellar reputation.
Having your company represented on HomeBasedTravelAgent.com is an absolute must if you are looking to connect with individuals that are looking to join the Travel industry by starting their own Travel Agency. Whether you are interested in first impressions to new agents are looking to expose your tools and resources to business owners that are just getting started, HomeBasedTravelAgent.com is the place that you need to be.
---
FindaHostTravelAgency.com
Established in 2013
Premier Resource for Travel Professionals to Research, Learn and Connect with Host Agencies
16 Available Filters for Users to Narrow their Host Agency Search
Fully Responsive
Completely Rebuilt in 2019
For 2020, FindaHostTravelAgency.com has received a complete site redesign and programming upgrade. This new platform offers a better user experience for visitors and maximizes the strength, functionality and search engine placements of Host Travel Agencies on the FindaHostTravelAgency.com website. 
With an extensive database of Press Releases, Articles and helpful information, users of FindaHostTravelAgency.com stay longer and research more on our site. In conjunction with the site rebuild, we have added over 18 filters to assist Travel Agents to find their perfect Host Travel Agency. With the recent site upgrades, we have added over 10 new filters to assist in connecting Travel Agents to you, the perfect Host Agency for their business.
Having your company represented on FindaHostTravelAgency.com is an absolute must if you are a Host Travel Agency looking to grow your programs with new and prospective Travel Professionals. With tiered placements and featured profiles, getting your Host Travel Agency in front of our growing viewers will not only create the first step of connection, but also allow for a great snapshot of your offerings, programs and incentives for Travel Professionals who join your Host Travel Agency.
---
TravelProfessionalCommunity.com
Established in 2008
Over 15,000 Members
The Largest and Highest Caliber Community of Travel Professionals
Fully Interactive Social Place for Travel Professionals
100% Complimentary to Vetted Travel Professionals
Over 800,000 Pages of Discussion and Information
TravelProfessionalCommunity.com continues to facilitate and engage with Travel Professionals in a free, open and fun environment.  Travel Professional Community members enjoy this invaluable access to tons of information about running a successful Travel Business completely complimentary. 
By advertising on TravelProfessionalCommunity.com, your brand and messaging is seen on every page of the site, and with over 800,000 pages, that is a great place to be. In addition to fantastic exposure, Members of TravelProfessionalCommunity.com see advertisers on the site as Supporters and often engage with you, purely based on the support you are providing the best place for Travel Professionals to connect.
---
For more information, please feel free to Contact Us or email us at info@TravelProfessionalNEWS.com.
SaveSave
SaveSave
SaveSave
SaveSave
SaveSave
SaveSave
SaveSave